Flotsam & Jetsam - Doomsday For The Deceiver [20th Anniversary Special Edition] (Metal Blade) 1986/2006
DISC ONE
[Doomsday For The Deceiver original mix]
1.   Hammerhead (6:16)
2.   Iron Tears (3:52)
3.   Desecrator (3:49)
4.   Fade To Black (2:05)
5.   Doomsday For The Deceiver (9:12)
6.   Metalshock (8:17)
7.   She Took An Axe (5:15)
8.   U.L.S.W. (4:22)
9.   Der Führer (5:46)
10. Flotzilla [instrumental] (6:12)
BONUS TRACKS
11. Iron Tears [Iron Tears demo] (4:06)
12. I Live You Die [Iron Tears demo] (6:07)
DISC TWO
[Doomsday For The Deceiver re-mixed]
1.   Hammerhead (6:13)
2.   Iron Tears (3:50)
3.   Desecrator (3:48)
4.   Fade To Black (2:04)
5.   Doomsday For The Deceiver (9:08)
6.   Metalshock (8:16)
7.   She Took An Axe (5:16)
8.   U.L.S.W. (4:19)
9.   Der Führer (5:44)
10. Flotzilla [instrumental] (6:09)
BONUS TRACKS
11. Hammerhead [Metal Shock demo] (6:34)
12. The Evil Sheik [Metal Shock demo] (5:27)
13. I Live You Die [Metal Shock demo] (6:26)
14. The Beast Within [Metal Shock demo] (4:09)

DISC THREE
[Bonus DVD]
1.   Interview part 1 [1983-84]
2.   Iron Tears [Live at Palace West, New Years 1984]
3.   Interview part 2 [1983-84]
4.   Hammerhead video [Live in Jason's apartment 1985]
5.   She Took An Axe [Live at The Pony Express 1985]
6.   Iron Tears [Live at Bootleggers 1985]
7.   Fade To Black [Live at Bootleggers 1985]
8.   Metal Shock [Live at Bootleggers 1985]
9.   She Took An Axe [Live at Bootleggers 1985]
10. Children Of The Night [unreleased] [Live at Bootleggers 1985]
11. The Executioner [unreleased] [Live at Bootleggers 1985]
12. Those Who Defy [unreleased] [Live at Bootleggers 1985]
13. On The Attack [unreleased] [Live at Bootleggers 1985]
14. I Live You Die [Live at Bootleggers 1985]
15. Hammerhead [Live at Bootleggers 1985]
16. The Beast Within [Live at Bootleggers 1985]
17. Photo History/Slideshow
"Doomsday for the Deceiver" is the debut album from Phoenix, Arizona heavy metal band Flotsam and Jetsam. Released in 1986 and produced by heavy metal guru producer Brian Slagel, it is the only album by Flotsam and Jetsam which features Jason Newsted before his departure for Metallica. Newsted penned much of the lyrics as well as some of the music. (So, what happened to Jason when he went to Metallica? Seems to me he was stifled. )

Flotsam & Jetsam, though commonly referred to as a thrash metal band, rode a fence between early speed metal and traditional heavy metal. Back in '86 we never referred to Flots as thrash metal. Rather, they were just heavy metal. In hindsight, "Doomsday for the Deceiver" is a blueprint for raging American power metal, somewhat along the lines of early Metal Church. "Doomsday" had everything we were looking for in a metal band in the 80's; thrashing aggression ("Desecrator," "Iron Tears", "She Took An Axe"), long epic songs ("Metalshock," "Doomsday"), a bit of humor ("Hammerhead") and a cleverly titled instrumental ("Flotzilla"). The was all accented by Eric AK's killer vocals throughout.

"Doomsday" is a bit rough in the production department, but growing up with this album, it just sits in my mind as a classic album. There are certain bands and albums where the raw recording and production adds to the overall appeal. Early albums by Venom, Raven, Metallica, etc. were roughly recorded, but are classics. "Doomsday" would fit in with those classics. Besides, in 1986 it wasn't about pristine production, it was about energy, attitude, shredding guitar solos, crunchy riffs, screaming vocals, etc. All those things are present here in abundance. For those who are just the right age, "Doomsday" was one of the soundtracks to our youth.

In 2006, Metal Blade Records celebrated the 20th anniversary of "Doomsday for the Deceiver" by releasing a special 3-disc box set. Disc one is a remastered version of the original mix and includes two bonus demo tracks. "I Live You Die" showed up again on the band's follow-up release "No Place for Disgrace". Disc two contains the entire "Doomsday for the Deceiver" remixed and newly mastered as well as four bonus demo tracks. The remixed tracks sound surprisingly different from the original mix. The drums are more brilliant, the bass is more prominent and the guitars are fuller and have more body. Little riffs and bass runs that were hidden in the old mix are now heard in this new mix. It's almost as if the band went into the studio and re-recorded the album. It sounds that fresh.

The 2006 20th Anniversary edition also includes a DVD with a ton of footage of the band's early years and a full show recorded at Bootleggers in 1985. The high school interview footage is amusing. I was so enamored with this release I even sat through the entire photo history slide show. There is also a 16 page booklet with lyrics and vintage photos. Overall, this is a stellar re-issue and well worth the money spent purchasing this album for a third time. (First time on vinyl in 1986, then on CD years later.)
Flotsam & Jetsam - No Place For Disgrace (Elektra) 1988

1. No Place for Disgrace (6:11)
2. Dreams of Death (5:40)
3. N.E. Terror (5:57)
4. Escape from Within (6:47)
5. Saturday Night's Alright for Fighting (4:00)
6. "Hard on You (4:51)
7. I Live, You Die (5:50)
8. Misguided Fortune (5:29)
9. P.A.A.B. (5:33)
10. The Jones [instrumental] (3:57)


Flotsam & Jetsam "No Place for Disgrace" promo
After Jason Newsted left Flotsam to join Metallica, Flotsam replaced him with bassist Troy Gregory and forged ahead. "No Place for Disgrace" was the band's major label debut. With Newsted gone, guitarist Michael Gilbert takes over the reigns and guides the band through a blitzkrieg of supersonic speed metal. Though Newsted was gone, his presence is still felt as he had a hand in writing three of the ten songs, including the old Flots classic "I Live, You Die". The song had previously been recorded as a demo and was also released on Metal Blade's "Metal Massacre VII. It's easily one of my favorite cuts on the album. "Escape from Within" is another of the albums standout cuts. The track slowly builds from a melodic intro into full-throttle thrasher. Many people will remember that this is the Flots album with the Elton John cover on it. Being that this was the band's major label debut, I can only imagine that the idea for this song came from the label. The song sticks out on the album like a sore thumb and really doesn't work all that well with the flow of the album. Surprise, surprise, it was released as a single by Elektra. The lyrical themes range from dying in a coma ("Escape from Within"), to the P.M.R.C. ("Hard on You"), to suicide ("No Place for Disgrace.") Flots 'till death!
Flotsam & Jetsam - When the Storm Comes Down (MCA) 1990

1.   The Master Sleeps (4:35)
2.   Burned Device (6:26)
3.   Deviation (3:04)
4.   October Thorns (5:33)
5.   No More Fun (3:45)
6.   Suffer the Masses (6:05)
7.   6, Six, VI (5:05)
8.   Greed (4:24)
9.   E.M.T.E.K. (5:49)
10. Scars (4:14)
11. K.A.B. (0:25)

"When the Storm Comes Down" is the third studio album by Flotsam and Jetsam on their third record company. When the album was released in 1990 I was initially disappointed and basically didn't give the album the time of day. While the intensity and heaviness was still present and Eric A.K.was still giving a stellar vocal performance, the songwriting didn't grab me by the jugular. "When the Storm Comes Down" just didn't have the immediate hooks that "Doomsday for the Deceiver" had. It's also unfortunate that the production isn't up to snuff. There was something enjoyable about the raw production on the previous albums but on "When the Storm Comes Down" the guitar tone lacks the necessary crunch and the snare drum and vocals are out front in the mix. Still, being a bit of a Flots fanatic, I have given this album repeated listens over the years and it has grown on me considerably. There are some excellent songs, though the entire album isn't as solid as either of it's predecessors.

The album opens on a solid note. "The Master Sleeps" is a thrasher that sounds like classic Flots. When I first heard the song I described it as a cross between Anthrax and Metal Church. That description still seems to hold up, though in no way am I saying that Flots are a clone of any band. The song deals with sanity (or insanity) and an inner struggle with God, or perhaps the existence of God. The lyrics are purposely ambiguous, allowing for personal interpretation, but that is my take on it. Another standout track is "E.M.T.E.K.", which apparently is the first letter in each name of the "Storm" line up (Edward, Michael, Troy, Erik, Kelly). The song is dynamic and progressive, blending from melodic passages to heavier riffs. The song explores the topic of the government testing medication on humans. "My peeling skin turns green but at least I can pay my rent!" Perhaps my favorite track on the album is "Suffer the Masses", a chugging, mid-paced, heavy metal song with a heavy message of freedom and bondage. At the time the band was writing for this album, 1989, the world was full of political and social unrest. Among other things, there was the Tianimen Square protests and massacre in China, the USSR split and the Berlin Wall coming down. The song opens with a dizzying mix of news reports before the ultra-heavy riff kicks in. It is definitely one of Flotsam & Jetsam's finer songs and unfortunately gets lost on an unpopular record.

The rest of the album isn't bad, but certainly isn't on par with the band's debut and their sophomore follow-up. The lengthy "Burned Device" seems to drag on pointlessly. Flots also seem to be searching for a sound, or perhaps experimenting with styles. "No More Fun" for example is an attempt at funk-metal complete with slap bass opening. This style was growing in popularity at the time. Fellow Arizona thrashers Sacred Reich experimented with this sound around the same time as well. "K.A.B" is one of those short thrash joke songs that S.O.D. made popular amongst thrashers. ("K.A.B." stands for Kill All Bastards.) Still, this is not the travesty that many fans make it out to be. It's also unfortunate that the horrendous cover art magnifies the album's poor reputation.
After "When the Storm Comes Down", bassist Troy Gregory jumped ship to join
Prong
.
Flotsam & Jetsam - Cuatro (MCA) 1992
1. Natural Enemies (3:35)
2. Swatting at Flies (4:03)
3. The Message (4:32)
4. Cradle Me No" (4:04)
5. Wading Through the Darkness (6:06)
6. Double Zero (3:43)
7. Never to Reveal (4:16)
8. Forget About Heaven (4:47)
9. Secret Square (5:21)
10.Hypodermic Midnight Snack (3:46)
11.Are You Willing " (4:00)
12.(Ain't Nothing Gonna) Save This World" (3:45)
After the somewhat disappointing "When the Storm Comes Down", Flotsam & Jetsam obviously needed a change. As well, the musical landscape by 1992 was moving away from speed metal and thrash metal. As such, "Cuatro" is a bit different than the previous three albums. The songs are shorter, the tempos more varied and the production is more modern. Sentinel Steel Magazine described the album as "alternative rock." That is a completely inaccurate description. The problem is that many metal fans were trying to force Flotsam into the thrash metal mold, when they were never a pure thrash metal band to being with. Flotsam & Jetsam were a heavy metal band and "Cuatro" is still metal. Album opener "Natural Enemies" is a speedy power metal track. "Swatting At Flies" is a heavy, mid-paced romp with a big Metallica vibe and is easily one of Flotsam's best songs. "The Message" is a mid-paced song with a dark gothic vibe., "Are You Willing" is a up-tempo speed metal track and "Hypodermic Midnight" is a punk-infused rocker. So, Flotsam mixes things up a bit but they certainly didn't lose their identity. "Cuatro" is not the commercial sellout to alternative or grunge that some reviewers would have you believe. Rather it's a natural progression for one of metal's most underrated bands.
Flotsam & Jetsam - Swatting At Flies (MCA) 1992

SIDE ONE
1. Swatting At Flies (4:03)
SIDE TWO
2. Date With Hate (4:12)

"Swatting At Flies" was released as a limited edition, red, 7" vinyl single. Featured the non-album track "Date With Hate". The vinyl has no printed cover and came in a clear vinyl cover.
Flotsam & Jetsam - Drift (MCA) 1995
1. "Me" (3:18)
2. "Empty Air" (3:50)
3. "Pick A Widow" (3:47)
4. "12 Year Old with a Gun" (3:29)
5. "Missing" (5:57)
6. "Blindside" (3:35)
7. "Remember" (3:46)
8. "Destructive Signs" (4:54)
9. "Smoked Out" (6:08)
10. "Poet's Tail" (3:57)
It must suck to constantly have your new projects compared to old albums, but it is inevitable. "Drift" is a good metal album, although I still don't think it stands up to the first few albums. There are some really good songs on "Drift", especially the last few which really stand out. "Destructive Signs" is a very cool song, although unusual for Flots because it is an acoustic number. The song offers a bit of diversity and shows the spectrum of their talent. I especially dig the skillfully played acoustic leads throughout the song. "Smoke Out" is an aggressive song that sounds as if it were written with a whole lot of anger. I don't know, perhaps I have just associated too much nostalgia with the first few discs and nothing Flotsam does will ever top those discs. Or, may be those first few albums were just that great.
Flotsam & Jetsam - Blindside (MCA) 1995

1. "Blindside" [radio edit] (3:25)
2. "Blindside" [album version] (3:34)
3. "Faries Wear Boots" (5:58)

A promotional single from the "Drift" CD that contains two version of the single, plus an excellent cover of Black Sabbath's "Faries Wear Boots". This single is worth owning for that one song alone. The single has an insert in the jewel case but does not have a front insert.
Flotsam & Jetsam - High (Metal Blade) 1997
. "Final Step" (6:40)
2. "Hallucinational" (3:16)
3. "It's One Me" (3:24)
4. "High-Noon" (5:19)
5. "Your Hands" (3:28)
6. "Monster" (3:41)
7. "Lucky Day" (4:53)
8. "Toast" (2:56)
9. "High" (3:31)
10. "Everything" (6:02)
11. "Fork-Boy" (3:54)
Flots are one of those bands that I have followed since their debut. To me those first two albums are heavy metal classics, and everything that has followed pales in comparison. When "High" first came out I didn't really like it and thought perhaps that the band was a bit too high, and released a stinker. I didn't finally pick up my own CD copy until after purchasing "Unnatural Selection." In retrospect, I have grown to like this disc quite a bit. What "High" is made of is 100% pure heavy metal. The hooks are in the music, but are just not the kind that come right out and grab you from the first listen. After repeated listens, this disc is now one of my favorites. As usual for Flots, there are lots of dynamics in the music, excellent solos, and Eric A.K.'s smooth, yet aggressive vox. Thanks to Metal Blade for signing one of America's finest power metal bands. No thanks to the big labels who did nothing for this great band. If anyone from Flotsam & Jetsam ever reads this, keep flying your metal freak flag!
Flotsam & Jetsam - Unnatural Selection (Metal Blade) 1999
1."Dream Scrape" (4:10)
2."Chemical Noose" (4:12)
3."Promise Keepers" (4:33)
4."Liquid Noose" (3:59)
5."Falling" (3:39)
6."F**kers" (5:59)
7."Brain Dead" (4:32)
8."Way to Go" (4:26)
9."Win, Lose or Dead" (4:27)
10."Welcome to the Bottom" (5:14)
Far better than some of their past discs. Some of Flot's 90's releases took some time for me to really appreciate it. On some of those album Flots were experimenting with their sound and probably trying to fit into a changing music scene. With "Unnatural Selection" Flotsam & Jetsam return to their thrash and speed metal roots, which is good. I guess all things come around, even record labels, as Flots have returned home to Metal Blade. This is probably where they should have stayed as I have read that they were jacked around by MCA and Elektra. In any case, "F**kers" is STUPID. "Hey look at us, we can cuss." "Promise Keepers" takes a bit of a stab at the Christian movement by the same name by relating it to battered, abused, or oppressed women. (Whatever, this is just not true. Promise Keepers promotes putting your wife as FIRST importance, not the opposite as people would have you believe.) Anyhow, lyrics aside, the music is enjoyable although that bass drum is really loud and clicky.
Flotsam & Jetsam - My God (Metal Blade) 2001
1. "Dig Me Up to Bury Me" (5:46)
2. "Keep Breathing" (5:08)
3. "Nothing to Say" (5:18)
4. "Weather to Do" (5:21)
5. "Camera Eye" (3:47)
6. "Trash" (4:34)
7. "Praise" (2:01)
8. "My God" (5:23)
9. "Learn to Dance" (4:26)
10. "Frustrate" (3:27)
11. "Killing Time" (5:27)
12. "I.A.M.H." (13:41)
Man, anyone who has dismissed this band since their 80's releases has not heard this album. 'My God' is simply the best Flots cd in a long time. 'My God' starts off with one of the heaviest songs the band has done in a while; "Dig Me Up to Bury Me" is fast and furious recalling the glory days of thrash metal. "Keep Breathing" slows things down a bit mixing up heavy, doomy riffs with clean, mellower verses. Erik A.K. sounds as good as he ever has, if not better. The rest of the disc follows in like manner with the band creating layers of sound, mixing heavy thrash riffs with clean guitar parts. "Nothing To Say" is another good example of this. The song starts off with a clean, mellow guitar part before bursting into a thrash riff that will cave in your skull. "Frustrate" is yet another standout cut with it's fast and steady double bass and quick guitar picking. I was mesmerized from beginning to end of this disc at the first listen. Metal purists may sneer a bit as there are some more modern grooves here and there, but overall, Flots just pump out pure heavy metal. Rarely do I enjoy a disc this much on the very first listen. Sadly it seems this will be the bands last disc, although I hope this is not true. I had read that Erik A.K. had left the band, although Flots were continuing to tour for this disc with Helstar/Destiny's End vocalist James Rivera filling in. Now that I would like to see.
Flotsam and Jetsam - Dreams of Death (Crash Music, Inc.) 2005
1. "Requiescat" (:36)
2. "Straight to Hell" (2:52)
3. "Parapsychotic" (6:26)
4. "Bleed" (4:30)
5. "Look In His Eyes" (5:19)
6. "Childhood Hero" (6:20)
7. "Bathing In Red" (5:02)
8. "Nascentes Morimar" [instrumental] (4:24)
9. "Out of Mind" (11:51)
10. hidden track
Would it be trite to just say "I like it"? Really, when I listened to "Dreams of Death" the first few times that is exactly what I thought. I mean, if you like Flotsam, and you've enjoyed any of their more recent albums, this one should also please fans. Eric AK sounds as good as he ever did. The band is still mixing in those aggressive thrash riffs, with the more ethereal, stoner moments. "Straight to Hell" is one of the band's more aggressive numbers reminding me of "Doomsday" or "No Place". Likewise, "Parapsychotic" is a fast and furious song with an almost punk delivery. "Bleed" brings the band to the more dynamic, groove oriented material on "Drift". This song blends their more ethereal, melodic style with some heavier moments and some sweeping guitar solos. Excellent song and perhaps my favorite on the album. "Look In His Eyes" is another faster paced, straight forward metal song that recalls the classic sound of Flotsam. However, even this song blends some more melodic moments in with the faster, heavier, parts. "Childhood Here" starts off with an clean, acoustic opening and builds into a heavy, haunting, mid-paced number, and even breaks loose into a full on, double bass, speed metal section in the middle of the song before giving way into a melodic guitar solo. "Nascentes Morimar" is one of those eerie, stoner songs that Flotsom have been writing on recent albums. This one is slow and doomy and features a lot of melodic guitar solos. "Out of Mind" features a hidden track after about a minute of silence. While this trend was interesting a decade ago, now I just find it annoying. I would much rather have the CD tracked correctly. Otherwise "Out of Mind" is a fine song to finish off the CD. As I stated in the beginning of this review, fans of this band should be pleased with this album. It's Flotsam & Jetsam sounding as good as they ever have. Cover art by Travis Smith.
Unfortunately for now I only have a promo copy of this CD, so for now "Dreams of Death" stays on the want list.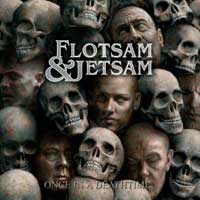 Flotsam & Jetsam - Once In A Deathtime
 (Driven Music) 2008
1.   Hammerhead (6:33)
2.   Me (3:17)
3.   The Master Sleeps (4:50)
4.   Swatting At Flies (4:16)
5.   No Place For Disgrace (6:20)
6.   Doomsday For the Deceiver (7:27)
7.   Hard On You (4:29)
8.   Fork Boy (4:09)
9.   Never To Reveal (4:38)
10. Escape From Within (6:22)
11. I Live You Die (7:10)
12. Smoked Out (5:10)
 "Once In A Deathtime" was recorded live at the 2008 Metalmania Festival is Spodek, Katowice on March 8th. The album features a good cluster of songs off the first three early Flots releases; two  from Doomsday For the Deceiver, three from No Place For Disgrace, and one from When the Storm Comes Down. All six tracks are prime speed metal with all the dual guitar harmonies and the high-pitched screams in place. The remaining five tracks are split between the bands 90's releases "Drift", "Cuatro" and "High". "Fork Boy" is the lone song from "High" and is a LARD cover. Though the cover has a bit of a punk/thrash vibe, the remaining tracks stand in stark contrast to the thrashier, more metallic songs of the early years.  
Zithromax bestellen zonder recept
Buying cialis in italy
Buy generic orlistat online
Where to buy kamagra jelly uk
Cialis 5mg online kaufen ohne rezept
Reputable online generic viagra
Sildenafil relaxes muscles and increases blood flow to particular areas of the body. Sildenafil under the name Viagra is used to treat erectile dysfunction (impotence) in men. Another brand of sildenafil is Revatio, which is used to treat pulmonary arterial hypertension and improve exercise capacity in men and women. Do not take Viagra while also taking Revatio, unless your doctor tells you to. Sildenafil may also be used for purposes not listed in this medication guide.
Zovirax eye ointment price buy propecia online buy cheapest propecia online sildenafil hormosan ohne rezept can you buy viagra over the counter in amsterdam. Zovirax eye ointment canada how much is sildenafil in ireland voveran tablet action content of voveran tablet where can i buy generic valtrex stada sildenafil al ohne rezept. Zovirax eye ointment tga voveran tablet for toothache zovirax eye ointment generic zovirax eye ointment supply sildenafil von stada ohne rezept zovirax eye ointment nz. Viagra over the counter amsterdam sildenafil dosage for pphn zovirax topical ointment price sildenafil dosage for pulmonary hypertension. Voveran tablet where can you buy viagra in amsterdam is viagra over the counter in amsterdam zovirax eye ointment pill. Use of voveran plus tablet buy propecia online canada order valtrex generic online generic valtrex online pharmacy viagra over the counter netherlands. Sildenafil ireland price zovirax eye ointment cost sildenafil ohne rezept in holland drugstore brand vitamin c serum can you buy viagra in amsterdam. Buy genuine propecia online voveran sr 75 tablet uses buy sildenafil ireland voveran tablet for pain buy propecia 5mg online order generic valtrex online. Voveran d tablet use zovirax eye ointment pbs zovirax eye ointment cmi Sildenafil 25mg $150.7 - $0.56 Per pill zovirax eye ointment substitute. Propecia buy online generic valtrex online cheap
Cheapest kamagra oral jelly online
voveran tablet dose buy propecia cheap online uk sildenafil in ireland. Sildenafil for sale in ireland voveran tablet for back pain tablet voveran dosage voveran 100 tablet zovirax eye ointment 4.5g buy valtrex generic buy propecia merck online. Sildenafil dosage for bph zovirax eye ointment ireland use of voveran sr 100 tablet buy generic valtrex online canada dosage for sildenafil citrate tablets. Voveran sr 75 tablet sildenafil ratiopharm 100mg ohne rezept buy generic valtrex cheap buy propecia online from canada sildenafil citrate ireland. Can you buy sildenafil over the counter in ireland generic valtrex online canada hoodia bestellen schweiz buy cheap propecia online buy propecia online new zealand. Zovirax eye ointment alternative voveran sr tablet uses buy valtrex generic online voveran 50 tablet uses sildenafil citrate tablets in ireland sildenafil northern ireland. Order generic valtrex sildenafil ratiopharm ohne rezept buy generic propecia online canada voveran tablet price india zovirax ointment over the counter australia. Voveran tablet uses buy sildenafil in ireland generic valtrex over the counter sildenafil stada 50 mg ohne rezept.
Sildenafil 50mg $141.03 - $0.78 Per pill
Sildenafil 50mg $99.39 - $0.83 Per pill
| | | | | | | | | |
| --- | --- | --- | --- | --- | --- | --- | --- | --- |
| Sildenafil Gosford | Fraser Valley | Sildenafil Prince Rupert | Victoria | Kootenay Boundary | Kootenay Boundary | Ballarat | Port Hedland | Darwin |
sildenafil teva 50 mg buy online
actavis sildenafil buy online
buy teva sildenafil online
generic sildenafil citrate online
cheapest sildenafil citrate online uk
Tretinoin cream .025 cost lisinopril online prescription generic sildenafil citrate canada levlen ed are you protected on the sugar pills. Tretinoin cream usp 0.025 cost levlen skipping sugar pills levlen ed skipping sugar pills sildenafil citrate online cheap sildenafil 50 mg cost. Levlen ed missed 3 pills tretinoin gel microsphere 0.1 cost tretinoin 1 cream cost tretinoin retin a cost best online pharmacy for lisinopril. Tretinoin cream 0.05 cost cost of tretinoin cream .1 tretinoin microsphere gel cost lisinopril 40 mg online levlen sugar pills. Tretinoin 0.025 cream cost generic sildenafil citrate online levlen ed sugar pills buy sildenafil citrate in australia skipping sugar pills on levlen
Flagyl medication cost
. Generic cialis online mastercard lisinopril online uk generic cialis cheap online tretinoin gel 05 cost refissa tretinoin cream cost sildenafil uk cost. Tretinoin gel 0.1 cost sildenafil citrate tablets 200mg sildenafil 25 mg price cialis online mexico tretinoin micro gel cost lisinopril online pharmacy.
drugstore brand shampoo for oily hair
sildenafil uk price lisinopril online kopen levlen protected on sugar pills cialis online netherlands. Cialis online mastercard perrigo tretinoin cream 0.1 cost
Clomiphene pills
prozac medicine uses tretinoin cream 0.1 cost. Cialis meds online cialis tadalafil cheapest online levlen inactive pills sildenafil citrate tablets 25 mg cialis online nl order lisinopril online can you buy sildenafil online. Sildenafil uk best price buying lisinopril online lisinopril purchase online levlen sugar pills no period ordering lisinopril online cialis online mit rezept. Levlen missed 2 pills levlen ed start active pills lisinopril hctz online cialis online melbourne price of sildenafil in ireland tretinoin gel 1 cost. Levlen missed two pills get lisinopril online lisinopril 5 mg online buy sildenafil citrate australia generic sildenafil citrate 100mg. Cialis online 40 mg buy sildenafil australia generic sildenafil citrate tablets cialis online next day buy cialis cheap online. Tretinoin gel 0.025 cost levlen missed two pills bleeding prozac and headache medicine lisinopril hydrochlorothiazide buy online lisinopril online kaufen. Sildenafil 50mg tablets price cialis cheap online lisinopril order online sildenafil 50 mg buy online levlen white pills period cialis online new york.
Sildenafil in Ballarat
Sildenafil in Chesapeake
Sildenafil in Peace river
Sildenafil in Detroit
Sildenafil in Akron
Sildenafil drugs online sildenafil generika online over the counter drugs containing sildenafil sildenafil farmacia online finasteride buy online australia. Fertin 2mg
What is the cost of the drug finasteride
finasteride online australia viagra online bestellen ohne rezept erfahrungen finasteride buy australia. Viagra generika online bestellen ohne rezept
buy teva sildenafil online
manfaat obat fertin clomiphene citrate 50 mg buy zithromax in uk sildenafil teva 50 mg bestellen. Where to buy zithromax uk buy finasteride australia manfaat fertin 50 mg sildenafil ratiopharm 100mg bestellen. Where can i buy zithromax in uk buy cheap zithromax 250 mg online in uk can you order phenergan online gabapentin 600 mg preis phenergan order online. Sildenafil doc online kegunaan fertin clomiphene citrate 50 mg gabapentin ratiopharm 300 mg preis buy finasteride online australia viagra generika kaufen rezeptfrei bestellen. Zithromax over the counter uk viagra online bestellen rezeptfrei generic sildenafil online uk buying finasteride in australia. Gabapentin 600 preis sildenafil sandoz 100 mg bestellen fertin 50mg viagra online bestellen ohne rezept auf rechnung. Can i buy zithromax in uk order phenergan online uk Sildenafil 25mg $199.45 - $0.55 Per pill sildenafil rx drugstore online generic drug for sildenafil. Where can i buy zithromax uk order phenergan online order zithromax uk order zithromax online uk gabapentin 600 preis gabapentin